Remove brown spots all over your body in 2 weeks
The first treatment specifically designed for brown to black skins
Unifies and illuminates the skin in 3 minutes a day
9 Essential Actions through this Ultimate Duo of Natural products
Contains more than 150 uses, for a perfect skin all year round
Our products already won 10 Awards
 Perfect Glow Duo
1 x Papaya Anti Stain Soap
1 x Revitalizing Papaya Lotion  
£97,99
£39 (SAVE 60%)
Limited quantity, 1324 sold in 48 hours
FREE delivery in 4 business days – only now
Limited edition, not available in stores
Searching for a complete and unique solution for perfect skin?
Are you looking for the most unified complexion possible, as luminous as ever, and for a skin free of pimples or brown spots? Look no further: this is what you need!
WARNING: a lot of stores sell counterfeit versions of our products!
We are the only ones to guarantee the authenticity of our products.
We decline any responsibility in the event of use of counterfeits (non-effectiveness, pimples or rashes).
Complete action for a perfect skin
9-in-1 action (Combined action soap + Papaya lotion)
Illuminates your complexion every day

Unifies your skin for perfect results

Reduces brown spots and scars

Replaces your make-up remover

Replaces your moisturizer

Regulates acne and pimples

Moisturizes your skin for a clean skin texture

Improves the hold of your makeup

Exfoliates your skin: it will be as soft as a baby!
IMPORTANT: No Hydroquinone, Sulfates, Parabens, Synthetic Fragrances, Glycols or Silicones.
Influencers can't get enough of it!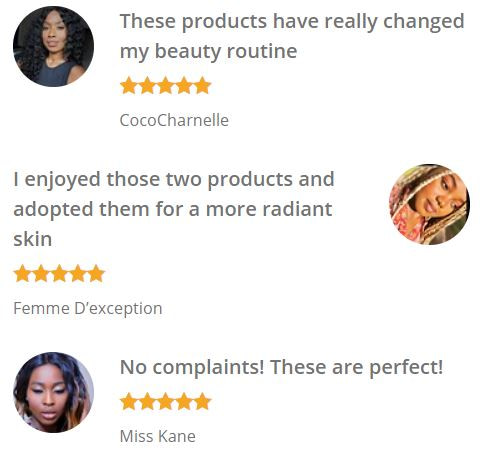 The ingredients of our Perfection Duo
REFINING
Coconut helps restoring the skin's elasticity while removing excess sebum. Result: clean, pimple-free and smooth skin.
BRIGHTNING
Papaya is rich in vitamin C which restores your skin's energy and radiance by attacking pigmentation clusters. Say hello to a unified and luminous complexion.
3 free bonuses with your Perfection Papaya Duo
A guide to learn how to use our products optimally and to get the fastest possible results (Value: £19.99)
An e-book that will reveal new tips and tricks as well as a mistake you should never commit for your skin (Value: £12,99)
30-days of councelling to guide you when using your cosmetics on a daily basis for a perfect results (Value: £24,99)
Total value: £57.97
FREE only today for the purchase of your Perfection Papaya Duo
Skin care experts for black skins
Brown and black skins are still under-represented on TV and in the movies! And unfortunately it's the same in the world of cosmetics…
Brands specializing in darker skins are extremely rare. The truth is that almost all cosmetics are designed for white skin!
That is why Likas has chosen to go the other way by offering natural products that are SPECIFICALLY designed for dark skins.
Because dark skins are more prone to hyperpigmentation (brown spots), developing products that are 100% adapted was necessary.